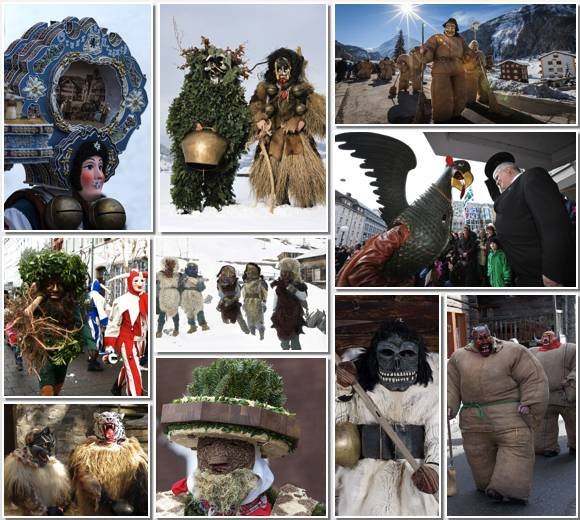 Posted: December 05, 2014
Author: Susanna Magruder
Living Traditions: The mythical characters of Swiss winters past are emblematic of the stories of harsh winters, isolated valleys, and social inequality. Their history and myths live on today through local folklore societies, traditional festivals and passionate preservation. Join us this winter to experience the stories of the Tschäggätta, Les Empaillés & Wüeschte Kläuse, and many more.
As the daylight dwindles, snow and cold blanket the Alps of Switzerland, memories of warm summer days are soon forgotten, and for many still today thoughts turn to winter survival. Not long ago, this was the reality of many Swiss inhabiting narrow valleys completely cut off from the country during the winter months. Listening to local folklore, we learn of evil demons who shook mountain-sides and pillaged villages, as well as the mythical heros, both pagan and christian, to whom the mountain people prayed. Today, traditions and stories like these are lost amongst a fast-paced world, and now more than ever, the Swiss are preserving their legends and local heritage to share with future generations and visitors.
Some of our favorite legends and where to experience them:
Schmutzli, throughout Switzerland: Schmutzli was created as a counterpart to kindly St. Nicholas (or Samichlaus as he is referred to in much of Switzerland), who rewarded children with sweets. Schmutzli, in contrast, would swat "wicked" children and take them away to his lair. According to folklore, Schmutzli purportedly shows up in towns the night before December 6. December 6 also happens to be Nikolaustag, or St. Nicholas Day, when children look outside their door to see if the shoe or boot they'd left out the night before contains either presents (a reward for good behavior) or a rod (bad behavior). When: December 6
Urnäsch Silvesterkläuse, Appenzell: A very old custom that commenced as a way to beg in disguise, and has evolved over the centuries into an expression of creative handwork. Today, the Kläuse wear robes and masks which display extensive skill and time. In the evening, most of them meet in small groups and proceed from house to house. Singing and ringing their bells, they wish the families a prosperous year. When: On New Year's Eve and January 13
Vogel Gryff, Basel: Late in the morning of a wintry day in January, a raft crossed the Rhine with a masked savage carrying an uprooted pine tree. He makes some dance steps constantly facing Kleinbasel, the city on the right bank of the River Rhine. Just below the Mittlere Brücke (the middle bridge), the savage is met by two other strange creatures: a lion dancing on his hind legs and a griffin with an awesome beak. Wilder Mann (the savage man), Leu (the lion) and Vogel Gryff (the griffin) are traditional symbols or symbolic figures of three Kleinbasel societies. These processions are meant to strengthen community ties in the small district of Kleinbasel, eager to distinguish itself from the larger district on the left bank. When: alternately January 13, 20 or 27
Tschäggättä, Valais: Carnival figures typical to the Lötschental region, are instantly recognizable due to their carved wooden masks, mostly made from Swiss pine, their animal pelts (goat or sheep skin), teeth made of animal horns, and the bell that hangs from their belt. From the day after Candlemas (Feb. 3) until midnight on Shrove Tuesday, they rampage through the village streets in pursuit of women and children. Once caught, the Tschäggättä rub their icy gloves over the faces of their victims. When: February 12, Traditional Tschäggättä Procession from Blatten to Ferden.