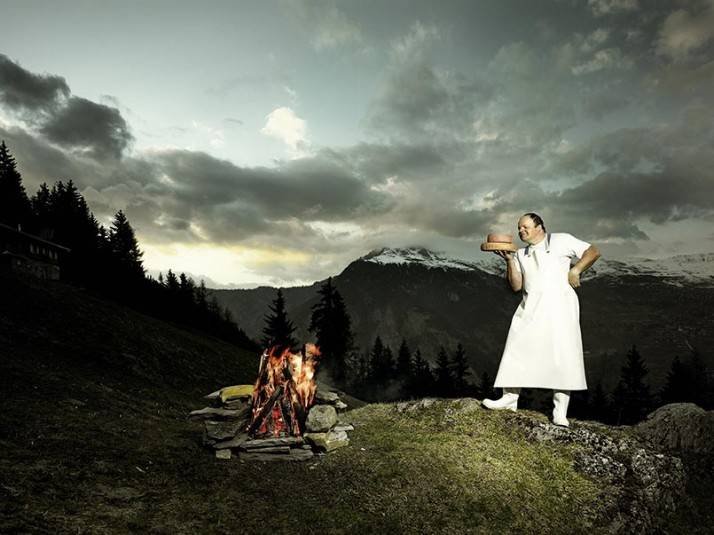 Posted: June 16, 2016
The Epic Europe office is located in the small Val de Bagnes village of Bruson; off-the-radar for most, unless you like to ski powder or search out some of the best cheese on the planet (and mountain biking, hiking, mushroom hunting, and a generally excellent quality of life!). When we first moved to Bruson, we lived in the center of the village and next to a jolly, larger-than-life local named Eddy Baillifard, who turned out to be the village fromageur, or cheese-maker. Every morning at half past five, we were woken up by the farmers bringing large metal milk jugs to the neighboring fromagerie in the back of their tractors, and by 10:00am, it was already time for a glass of fendant (a nice breakfast wine) at the Carrefours Café next door. Slowly but surely, the locals began to accept the weird Americans, and we began the local ritual of visiting the fromagerie in the early evening, during the 2-hour shop hours, to buy our cheese.
Unfortunately, Eddy has since moved the cheese production down the mountain to Champsec, as the fromageries become fewer and fewer, and he is tasked with making more and more award winning cheese from the valley's abundant milk supply.  The production in Champsec is still artisanal, but on a much larger sale than before. The curds are pumped through large hoses similar to a fireman's hose and the molds and weights are hydraulic. But at its root, the cheesemaking is still very traditional, and this is even more present in the caves below, where you will find thousands of wheels in various stages of aging. The young Tomme Brusonintze - smaller semi-soft cheeses aged for just several weeks, fresh serac – the biproduct of the curd aka whey turned into a soft slightly sweet unsalted ricotta like cheese, and the famous Raclette du Valais AOP "25 Bagnes".  
Visit Eddy & the Fromagerie de Champsec and experience endless hiking trails & authentic traditions on our VERBIER - ST. BERNARD HIKING & TRADITIONS TRIP