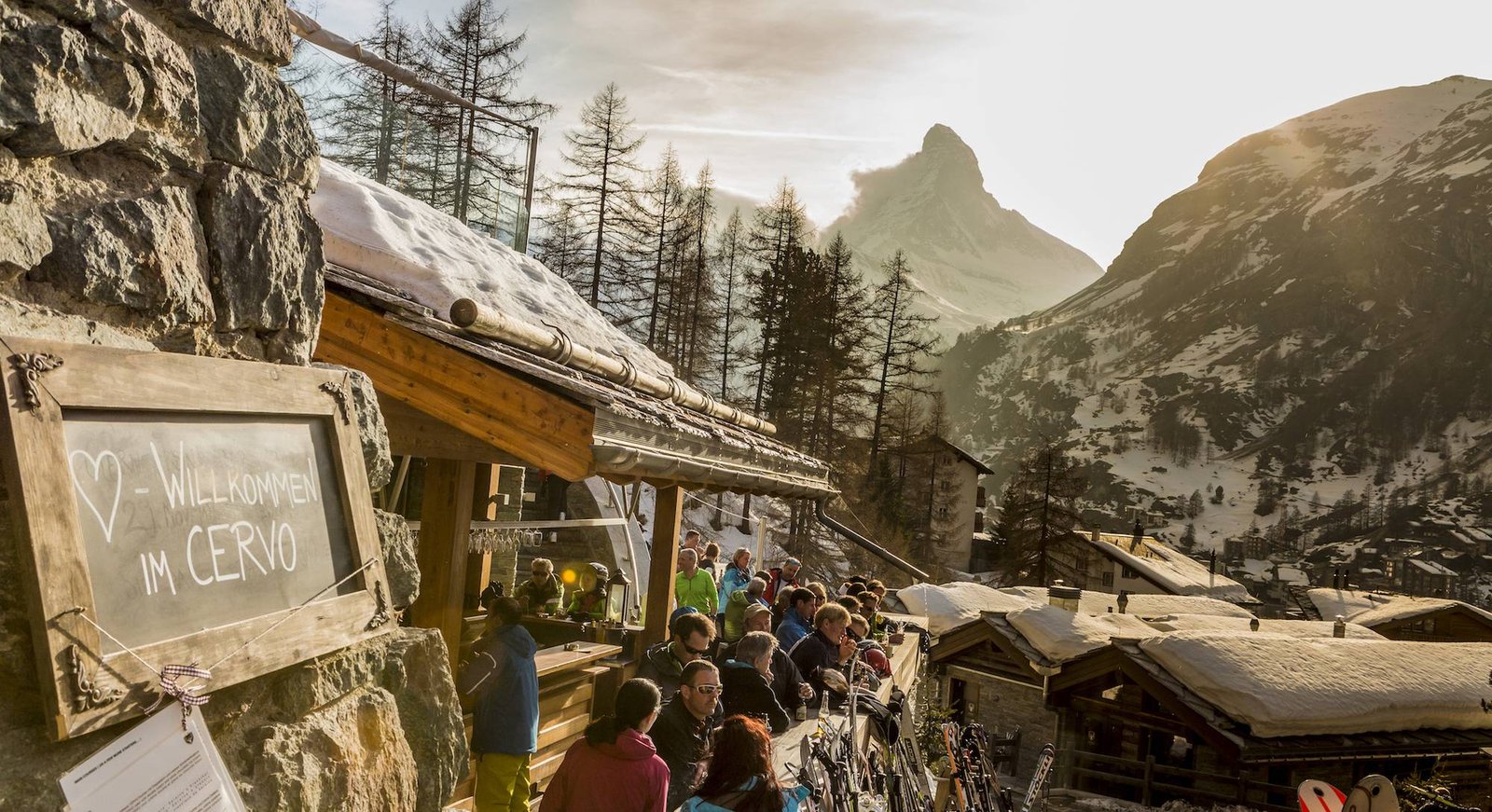 Posted: December 19, 2016
EPIC EUROPE'S TOP PICKS FOR APRÈS IN ZERMATT
On-mountain:
 "Hennu Stall": Alongside the piste below Füri, Zum See, and Blatten, this is the Zermatt version of the Kangerüh or the Mooserwirt of St Anton. Owned by one of our mountain guides. Classic for a beer, but don't stay for too many. Or do.
"Chami Hütte": Coming down from Gornergrat is a great place piste-side called Chami Hütte, as there is also one coming down from Rothorn as well. Both have spectacular sunset Matterhorn views, great for one beer, but the rest of the descent can be icy, so keep your wits about you.
"Champagner Bar": Coming down from Sunnega, all of the trails eventually funnel into a narrow path that feels similar to a James Bond chase scene at 4pm. Add to that the obstacles of abandoned skis, and everyone slowing to see what the commotion is, and it makes perfect sense to stop for a glass of Veuve Cliquot before conquering the final stretch to your next beverage at Cervo.
In town:
In-town: 
 "Harry's Ski Bar": The newest spot in town, opened in 2015 by our #1 mountain guide Fabi Lauber and his father, Harry, a "Bar by Skiers for Skiers". A cozy restored barn that feels like your own private stübe. With occasional Austrian music sing-a-longs and shots. Located in the center of Zermatt along the Vispa River.
"Cervo Après Ski": At the end of the run from Sunnega, the Cervo's big sun terrace with views of the Matterhorn serves a sophisticated choice of beverages and Alpine tapas – live music most afternoons.
"SnowBoat": Along the river in town, with interiors from the renowned and quirky Heinz Julen: artist / architect / designer whose work is ubiquitous in Zermatt. Good when you want a snack to accompany your après, burgers and salads. Later in the evening don't miss the Vernissage, Heinz's unique mix of bar, club, theatre, and art gallery, below the Backstage Hotel.
"Papperla Pub": The long standing, no frills pub where locals and tourists mix and you can après from whatever you have been doing, 365 days a year. Don't be surprised if there are people dancing in their ski boots until closing at 2am. Located just across the bridge from the Church Square.