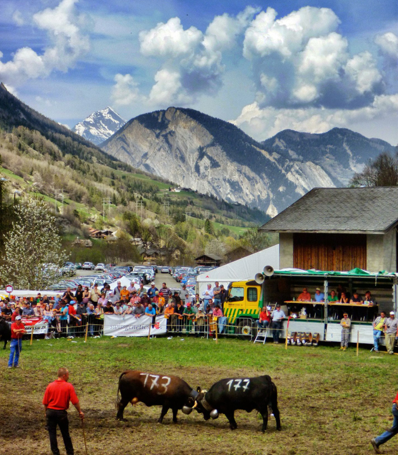 Posted: April 22, 2013
In early Spring, the cheese cowboys emerge from their barns, and bring with them their prized cows to take part in a traditional event dating back to the 1920's - the "Combats des Reines". Last week we went over to the arena in Orsières, along with 3500 other spectators, to watch the cows of the 'Hérens' or 'Eringer' race do what they do best: fight to be queen. Armed with a plate of raclette and a glass of local Fendant, we watched from the various viewing points next to some of the aficionados who bring their own folding chairs, blankets and picnics.

The cows weigh anywhere between 550-800 kg (1200-1760 lbs) depending on the category. Though the owners can't really 'train' their cows to fight, they need to keep them in good shape - which mostly seems to involve giving them soothing pep-talks, and caressing them. Once the cowboys detach the lead and walk away from their cows in the arena, the referees, or rabbateurs, coordinate the "rencontre" of two cows, and the fighting commences. It's not exactly a rampage to begin with; the cows look quite content just standing around pawing the dirt with their hooves, and digging their horns into the ground. However, once two cows have eyed each other up, they interlock horns and it's a full-on barging contest. As soon as any cow backs down or starts trotting away, she has lost and is asked to leave the ring. Although it may sound violent, it is more of a pushing and shoving contest, so there are rarely any injuries. Cow fights occur naturally among the Hérens race in the alpine pastures as part of a unique method to establish who will be the queen of the troupe, the most dominant female of the herd. She will always get preferred grazing areas in the pastures, and will lead the herd to and from the barns and up into the high-alpine come summer.