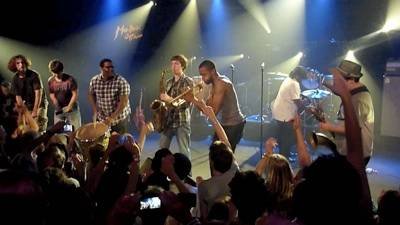 Posted: July 08, 2011
Author: Jack Shaw
It was an absolutely perfect day, from the morning spent riding mountain bikes high above Lac Leman, to the picnic along the lake shore, to the evening of New Orleans Jazz and funk in Miles Davis Hall at the world-famous Montreux Jazz Festival.

1700 meters above the lake is the summit of the Chemin de Fer Montreux -Glion - Rochers-de-Naye, a cog railway that dates from 1892. A popular tourist destination for hikers, and one of our favorite Meccas of single-track riding.

The huge descents are as varied and interesting as mountain biking gets. From the summit, the alpine zone dictates the rocky and technical trail. Sometimes it's hard to focus on the riding with the spectacular view over Lac Leman to Mt. Blanc. The rocks eventually subside and you are left with soft grassy hillsides, filled with wildflowers, and just when you think there can't possible be any more, you dip into the forest for the unbelievably buffed "chemins pedestre", the famous Swiss walking trails, raked and maintained at an obsessive level. Winding through little hameaus, only accessible by foot, houses made with materials from the forest - are these places even legal? It is like a fairytale…I think I saw a Gnome. A couple of laps later, arriving at the lakeshore just in time for a picnic and pre-concert apero.

Blame it on Treme, the HBO series about post-Katrina NOLA, heavy on promoting the music of the region. We had decided to catch the New Orleans talents of Dr. John and Trombone Shorty (Aka 26 year-old Troy Andrews) for the evening's entertainment. Dr John, sporting a purple velour pimp-suit and snakeskin loafers, rocked the tiny auditorium with classic New Orleans standards and his own famous songs, but the slightly uptight crowd was still seated. But not for long. Trombone Shorty, a musician I was not as familiar with, joined Dr John for a finale along with Paulo Nutini (another emerging talent out of Scotland with an extraordinary voice, if you have never listened to him, go get some now!). Not knowing what to expect, I was completely in awe when Andrews played the most powerful trombone solo I had ever heard.

After Doctor John, the rest of Trombone Shorty's band took the stage, each one looking younger and greener than the next… but only appearances! With every song, I loved this group more and more, their sheer talent and breadth of songs was outrageous. From Louis Armstrong to self-composed New Orleans "bounce", to the 2nd line finalé that had people dancing on their chairs until 2am in the morning. Troy Andrews is absolutely one of the best performers out there. He may be young, but he was playing music with Bo Diddley in diapers, and leading bands by the age of 6. Check your local jazz and music festivals and go see him soon. Your feet and hands will be sore the next day from dancing and clapping, and if you are lucky enough to combine it with an epic day of riding at Rochers de Naye, you just might be sore all over and loving it!