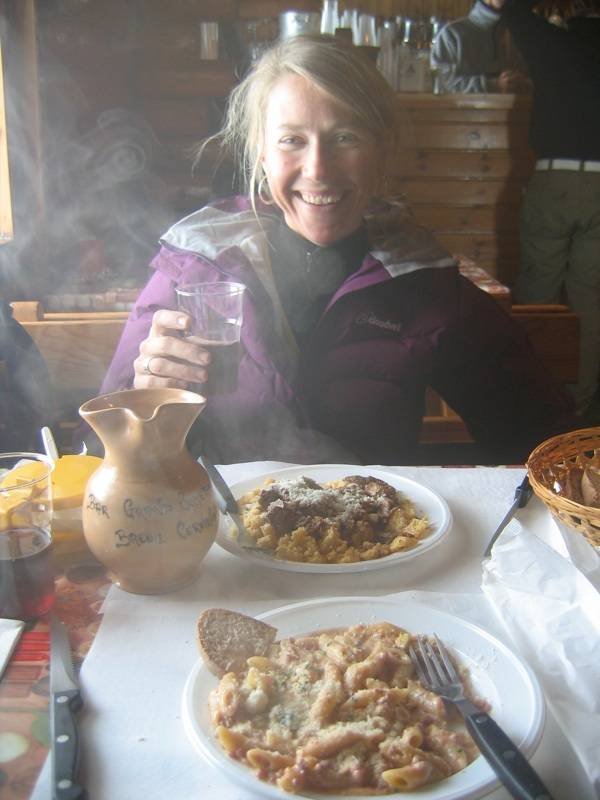 Posted: April 11, 2011
Author: Susanna Magruder
In what has so far been one of the worst snow years in the Alps on record; we headed to Zermatt where the spring skiing never ceases to surprise me.

Driving from Cully, on Lac Leman where we had seen Maceo Parker at the Jazz fest the night before, it felt more like summer than ski season, with barely a snowcapped peak in sight, and the flowers in full bloom. 2 hours later, we were hauling our gear from the train in Zermatt, trusting that 7000 feet up there was still snow.

I was there to ski with a group of old friends and clients that have been coming to Zermatt in the late spring for the past 30 years. They know that this is the best time of year for the possibility of spring corn snow and fresh powder, as well as warm sunny afternoons - perfect for enjoying a leisurely family lunch outside on the terrace at classic Zermatt restaurants like Zum See or Chez Vrony.

The numbers didn't work out, so I waved goodbye to the helicopter and headed to Cervinia, Italy with family matriarch, inspiring ski diva, and drop-dead beauty, Carol, and our mountain guide. Just shy of 70 years of age, several hip surgeries, and 50+ years of professional dancing later, she is a force to be reckoned with. At first, the snow was breakable crust, and you really had to lean back; but in no time it shifted to soft silky corn, all the while Carol's graceful little figure making perfect turns in front of me. We lapped the effortlessly smooth south-facing corn until the early afternoon when it started to get sloppy and we were long overdue for an Italian lunch.

The rest of the group had just returned from a couple of heli-drops on the Italian side, a mix of powder, crust and mush; not the most epic skiing, but who cares when you're in one of the most beautiful places on earth, skiing with three generations of family, and sitting back to enjoy it all over a steaming bowl of pasta with venison ragú and a local Aostan red wine. Isn't this what skiing is all about?