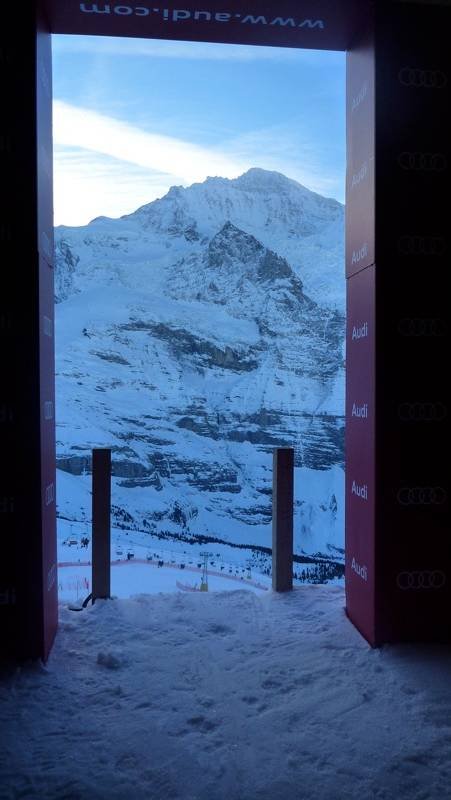 Posted: January 18, 2011
Author: Jack Shaw
Ever since I first saw Robert Redford's Downhill Racer, Wengen's legendary World Cup downhill, the Lauberhorn, has been ingrained in my ski psyche. Starting in the shadow of the Eiger, Mönch, and Jungfrau, it is the longest, and most demanding course in the world.

As a journalist, I had the opportunity to get on-course several times years ago - probably the most scared I have ever been on skis. Think about a hockey rink pitched to 40°-plus, with sickening rollovers, features like Canadian Corner, the Kernen-S, Minsch-Kante, and the Austrian Hole (named for brutal, season-ending crashes), the 40m drop known as the Hundschopf, and of course the tunnel under the railroad tracks. It's a place where legends are made, and a wrong move could end your career.

This year, I was on assignment for a Powder Magazine story about my friend Chris Krause (look for it in the October 2011 issue), who is Didier Cuche's servicemen. Krause has reached the absolute highest level of factory wax guru, and is the only American to do so. Cuche credits many of his wins to Krause, and shares his winnings with his trusty technician. There is no question that he is one of, if not the best in the game.

Before the race, we joined Jackson Hole native Pete Jenkins, who is now a speed tester for Cuche's sponsor, Head, up at Kleine Scheidegg for a rösti and kalbsbrat, the best in the Alps. Then, the three of us boarded the chairlift with the magic skis, and headed to the starthouse.
Cuche skied like a magician, but came up 0.2 seconds short of Austrian Klaus Kröll. For a Swiss racer, this is the most important race in the world, much more so than a gold medal. Look for Cuche to win it in 2012, he won't be denied.

We offer a VIP Lauberhorn trip that can start with 3 days of off-piste skiing in Mürren before setting up in Wengen for a course-side view of the main event. Or, if you'd prefer to just show up for the big race weekend, you can do that as well. This is one of the premiere spectacles in skiing, and you'll know why when you see thousands of World Cup fanatics ringing cowbells for days on end. Staying up in one of Wengen's classic hotels and catching an early train up to the race is just another VIP experience that makes this trip.