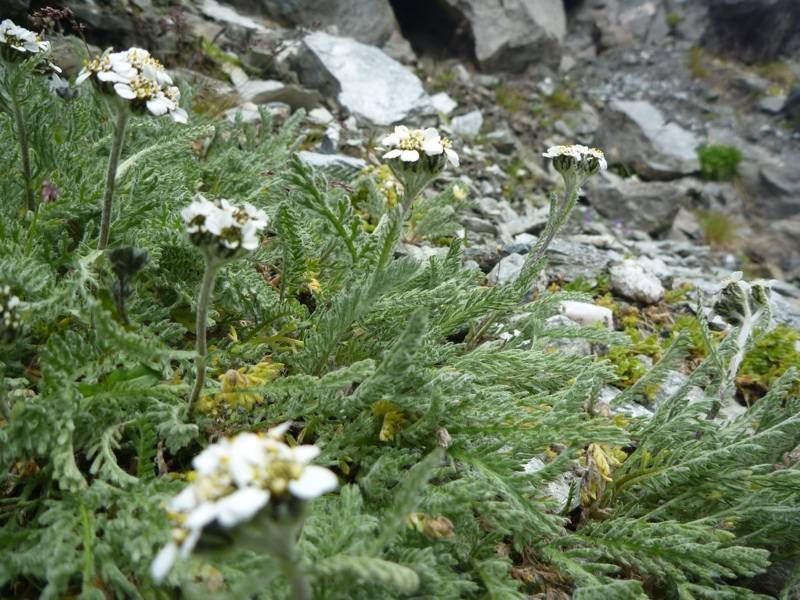 Posted: September 17, 2010
Author: Susanna Magruder
Not quite the Green Fairy, but it grows in my backyard...
My obsession began at a tiny mountain hut, while skiing in Cervinia, on the Italian side of the Matterhorn.  We had just finished lunch, and were concerned about missing the last lift back to Zermatt. The owner, dressed in vintage day-glo fleece and a paper chef's hat (at 3000meters) eased our concerns by offering us a ride on his snowmobile, and promptly covered the table with a variety of homemade digestivos. Grappas and sticky-sweet Lemoncellos, followed by my first taste of the local Genepi. The sweet herbal flavor, slightly dishonest in its promise to heal whatever ails you, went down smooth, and kept me warm as I hung on for dear life on the snowmobile ride back to Switzerland. 
Genepi (IT) or Génépy (in French) is the term for several Alpine plants of the genus Artemisia and the liqueurs made out of them. There are over 200 species of Artemisia, from "silver mound" (a common border in perennial gardens) to the sage-brush that covers the western USA, and most share the common characteristics of soft silvery leaves and a strong herbal aroma. The alpine varieties, found between 2500-3500 meters in the Alps, have been recognized since the Middle Ages for their ability to stimulate digestion and regulate body temperature. And farmers and mountain guides alike have been home brewing it ever since. 
In my quest to find the perfect balance between the bitter herbs and the sweet sugary smoothness, I decided I needed to deconstruct the ingredients, and create my own blend.  It started with some research, mostly in Italian, to make sure I could properly identify the genus' specific to Génépy. I was overwhelmed by the variety of opinions, and recipes, and was distracted by several links for beautiful antique botanical prints. Finally, after hours spent preparing for my harvest and deciding on a recipe, I came across a page that stated that the flowers were so rare that picking it  was forbidden in Switzerland (All commercial genepi is now crafted from cultivated plants). Not to be deterred, I headed across the border to France where you are allowed 2 handfuls (or about 40 strands/pp) The French have always put their precious food and drinking above everything else, sometimes even the environment. 
Génépy's habitat is harsh and unwelcoming: rocky glacial moraines, particularly on isolated shelves where the chamois cannot get to them before you. This made it difficult for the "sniff technique", by which I lie down and smell the plant to see how aromatic it is. I guess the more adventurous the hunt, the better the stories you have to share when passing around the finished product. Between four of us, we bagged à peu près 8 handfuls, and headed back home to infuse it in some alcohol.
Glass jars were filled with 80 proof alcohol, procured from the local pharmacy for "medicinal purposes". We separated the flowers by genus; Artemesia Spicata, Art. Unbelliformis and Art. Glacialis, and dropped them into the alcohol to soak for 40 days. Lets see….that puts us at the end of October, when we should be ready to blend, and add the sugar. I was thinking of experimenting, using mountain honey that might add another layer of floral aroma. And let's not forget to water down the 97% alcohol to about half the strength. I don't really want to put hair on my chest! Sample for proper balance, and let it rest until the first powder day with friends, when I can pull out my flask and warm our hearts and souls with a homemade mountain elixir. A tradition formed long ago, now kept alive by mountain people who live, work, and play in the Alps we love!
To sample some Génépy for yourself, join us for some skiing this winter, and if you're lucky, I will restore your rosy cheeks with a sip from my special blend. Or for a taste of a another famous drink derived from the Artemisia plant, Absinthe, we invite you for an Epic week of cycling and an unforgettable adventure through the Val Travers, CH, and the original distilleries of the Green Fairy.