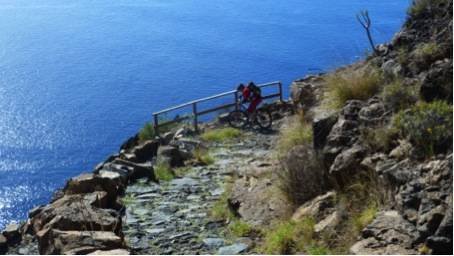 Posted: November 15, 2013
Author: Nancy Pellissier
Two shorts flights, the first to Madrid and the second to Santa Cruz de La Palma allowed us to add some summer to our summer, discover a new riding place and explore new singeltrails or « caminos ». In less than 6 hours flight, our calves muscles, that were ready for some pre winter rest, are now found to be putting us up volcanic hills in the Canaries.
Day 1
We were looking for some dust, sea and sun but mother nature decided not to disorientate us so much from the chilly November month in Switzerland, so for our first day out on the island we got fog, wind and rain, vertical or horizontal, as this last one seems to be a legendary weather effect here.
We rode up to Pico de la Nieve on a dry and dusty trail. We got to see the amazing landscape from above before the weather turned into a heavy rain. Hopefully the volcanic stones trail have much more adherence than our pavés valaisans. We ended our first riding day down in the city of Santa Cruz. This was a contrasted day, much more humid that expected but encouraging knowing that on those volcanic and mountainous islands the return of the sun is only a matter of couple of hours.
Day 2
Keep what's good : an austral and mountainous island, lots of various singeltrails, a nice guide that knows perfectly his playground and pick randomly a Monday, let's say the first Monday of November. Exchange the rain for a blue bird day, fog for sun, storm and wind for mild climate and blue sky and your usual alpine terrain for volcanos. Lower your tires' pressure and start discovering the most legendary « caminos » of La Palma island. Get ready to switch between basalt and cinder and adapt your pilote skills to the variety of the terrain.
On our second day of riding, the Ruta de los Volcanes (trail of the volcanos) led us through deep valleys, canarian pine forest and beautiful singletrails. We started pedaling up the abrupt side of a volcanic cone. Then we followed the ridge and went around few craters. Finally we came all the way down to Fuencaliente, the southern point of the island, where we had some delicious tapas and a couple of fresh « cerverzas » while enjoying the sunset of a Monday « almost » as the other ones.
Day 3
Did you know that La Palma had its own bobsleigh track ? And guess what, we were lucky enough to be able to find a free slot in the busy schedule of this training track to try out this amazing sportive infrastructure. We started on the edge of the « Pico de la Nieve », where we literally dived into the atlantic ocean, 2000m lower, close to Puntallana. Between pine needles, soft or hard dirt, and its most surprising covering composed of thousands of ball-bearingss, we tested our riding skills on every surface. 
Day 4
As alpine mountain bikers we are not so used to mineral terrain but after few days riding the volcanic island we got some confidence. The first challenging steps of the fourth day gave us a taste of what our guide prepared for us as main course. A rocky menu : volcanic stones more or less stable, a wide choice of granitic « tapas » topped with some canarian pine needles. As dessert, we had a wonderful paved trail overhanging the high cliffs above Puerto de Tazacorte. A menu to savor with relish but also cautiously in order to keep all our teeth until the end of the trip.
Day 5
For our last day we did two different rides on each side of El Pilar mountain. As often during our trip we encountered various meteorological conditions between the two sides of the mountain but especially between the seaside and the top of the inland mountains. Sun and mild temperature at the Altantic level ; fog, humidity, wind and chilliness in altitude. Some climate changes that did not stop us from enjoying the numerous singletrails and the endless changing riding surfaces as well as the delicious "Barraquitos" (local coffee with liquor).
La Palma is an exotic riding spot with something for everyone, just a quick flight from the EU mainland.